Electric heating elements type GTX

The new model GTX is the effect of CINI's presence on the Polish and European market and its previous experience with heating technology.
It is used for heating the systems such as radiators in bathrooms, towel dryers, or as additional element for already existing systems of radiator-heating. It works perfectly in the stainless steel radiators.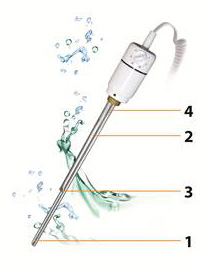 GTX lifetime is extended by using the stainless steel heating element (1) and adding the capillary (2) with temperature sensor (3) at the tip of it, which allows for a very precise measurement and control over the temperature of the liquid, in which the element is immersed. Special fuse (4) protects model GTX against dry running in case of water loss. It is also worth mentioning that our heating elements are made by a well-known and proven leader among manufacturers – Backer OBR.
Advantages of GTX
Made with high quality components,

Possibility of precise temperature regulation (5-70˚C),

Ring-shaped indicator lamp can be seen from all the angles,

rubber seal prevents water leakage,

thermal fuse prevents overheating,

housing made of two elements allows for an easy access to the potentiometer,

design matches modern, as well as traditional radiators and towel heaters,

Saves energy by providing the possibility of heating only one room instead of turning the whole central heating on,

Eco-friendly packing solution.