Electric heater with electronic thermostat and timer function model QS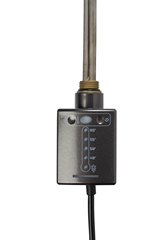 The heater with electronic thermostat type QS, is a device used for heating the systems such as radiators in bathrooms, towel dryers, or as additional element for already existing systems of radiator heating. It has modern touch-control system and the possibility of setting the determined operation time for 2h.
Advantages of QS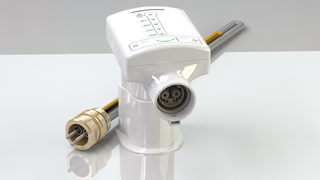 1. BACKER heating element
- heating element is equipped with temperature limit fuse and internal temperature sensor.
- possibility of detaching the thermostat from the heating element and its mounting after installation.
2. Modern touch-control system
- easy setting by touching the marked place on the sensor.
- increased sealing level, reduced chance of moisture ingress.
- functional operating programme.
3. Indication of heating element operation by a glowing line at the bottom of the casing.
4. Marking of the radiator temperature by elliptical lamp.
Indication modes
- blue – cold radiator
- green – radiator temperature suitable for drying towels
- red – radiator temperature high, requires careful use, depending on the fabric type
- red flashing light – radiator temperature above 65 degrees, possible overheating of the radiator, requiring everything to be removed from the radiator and thermostat operation checked
– temperature indication is active at all times while the thermostat is on, regardless of the way the radiator is heated, either by the heater or the central heating.
5 Thermostat operating mode:
5.1 Asterisk (*)
- 5°C temperature setting used in order to secure against freezing. Thermostat will switch into this mode after SELF TEST and during the reset following power supply loss.
5.2 Heating modes
- 40-50-55°C temperature modes for drying and heating
- 65°C – mode recommended only for heating
5.3 Timer setting
Possibility of setting the determined operation time of 2h.