Electric heater with electronic thermostat and timer function model QSX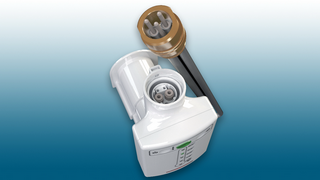 The newest model – heater QSX is equipped with an electronic touch system, which lets the user set the heater to the desired temperature, indicated on the panel.
The heater has got the TIMER-2H function, which allows to set the working time of the heater for 2 hours. We have also added the masking element, thanks to which the connecting cable, inserted directly into the wall, is invisible.
You can set the desired temperature from 5 to 65 oC.
Advantages of QSX
1. BACKER heating element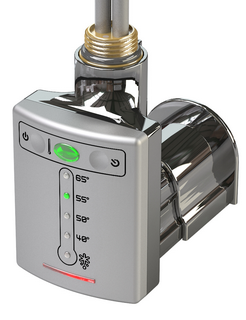 - heating element is equipped with temperature limit fuse and internal temperature sensor.
- possibility of detaching the thermostat from the heating element and its mounting after installation.
2. Modern touch-control system
- easy setting by touching the marked place on the sensor.
- increased sealing level, reduced chance of moisture ingress.
- functional operating programme.
3. Indication of heating element operation by a glowing line at the bottom of the casing.
4. Marking of the radiator temperature by elliptical lamp.
5. Masking element, which allows to hide the cable in the wall.
Indication modes
- blue – cold radiator
- green – radiator temperature suitable for drying towels
- red – radiator temperature high, requires careful use, depending on the fabric type
- red flashing light – radiator temperature above 65 degrees, possible overheating of the radiator, requiring everything to be removed from the radiator and thermostat operation checked
– temperature indication is active at all times while the thermostat is on, regardless of the way the radiator is heated, either by the heater or the central heating.
5 Thermostat operating mode:
5.1 Asterisk (*)
- 5°C temperature range used in order to secure against freezing. Thermostat will switch into this mode after SELF TEST and during the reset following power supply loss.
5.2 Heating temperature mode
- 40-50-55°C temperature modes for drying and heating
- 65°C – mode recommended only for heating
5.3 Timer setting - Time
Possibility of setting the determined operation time of 2h.